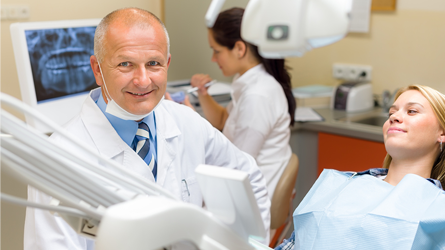 Are You Looking for a Top Thornhill Dentist?
If you're interested in finding a superb Thornhill dentist, then you've come to the right place. At Family Tree Dental, we provide exceptional service to our valued patients, as well as truly comfortable and pain-free experiences. When you choose us as your preferred dentist Thornhill, you'll find that we offer all of the services that you're looking for and that our rates are very reasonable.
Your convenience is our priority, so we're pleased to offer business hours which will fit your busy lifestyle. We are open on evenings and weekends, in addition to regular business hours. We stay open to make life easier for our patients. As well, we offer free parking at our two North York dental clinics. When you choose us, you'll be able to access the services of a licensed dentist in Thornhill who is able to provide cosmetic and restorative dentistry services, straight teeth and braces services and preventative dental care, including checkups and cleaning.
We cater to the needs of customers of all ages. For example, we're a great place to bring a child who is aged one year or older and we also offer caring dental services to patients who are teens, adults or seniors. Our clinics are staffed by skilled professionals who understand the value of premium dental care. Our team will ensure that your dental processes are stress-free for you. We believe in practicing dentistry which is comfortable for each and every patient.
Make an Appointment Today – Thornhill Dentist Professionals!

You deserve impeccable quality. When you book an appointment at one of our clinics today, we'll make sure that you're able to access skilled dental work which gives you a beautiful smile and positively impacts your oral and general health. Come to us regularly in order to ensure that your teeth get the care and attention that they deserve.
We are very easy to connect with. Just email or call us in order to book your preferred services. Both of our dental clinics are clean and serene, so you'll be able to relax as we make your teeth look and feel their best.
We run dental clinics with strong and positive reputations. Both of our branches are popular choices with Thornhill residents. The key to accessing dental care which really delivers is choosing us today. You'll find that we provide professional, prompt service and we accept most forms of dental insurance. So, why not get in touch today?